"We always wanted to belong, but never found a place that matched what we were about, so we made our own place to belong." – Neil Bui
---
dork·a·hol·ic noun \ˈdȯr-kə-ˈhȯ-lik\
a chronic disorder characterized by dependence on pop culture, repeated and/or excessive use of all things within this realm including, but not limited to, comics, film, gaming, TV and all things 'dork.' Development of withdrawal symptoms includes twitching, insomnia, headaches, the feels, constipation & heartache.
---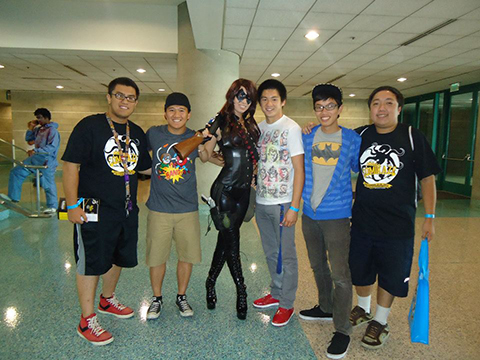 Origin Story
Before dorkaholics, there existed five teenagers with attitude. At their first convention together, a comedian dared to speak ill of Arthur Curry, King of Atlantis. These five youths banded together to defend their king's honor and heckled said comedian. And from that moment, they were dubbed the AQUA KIDS.
Making of a Dork
When the heroic AQUA KIDS banded together, the five of them felt an irresistible desire to collect comic books, play Dungeons & Dragons, marathon superhero movies, and dress up as fictional characters.
In time, the young heroes realized this overwhelming passion they shared could revolutionize the world. Together they formed dorkaholics, their idea of how they wanted to share the things they loved to friends and strangers.
Explore the site. Enjoy the content. Accept the dork inside your life.
About the Mission
While many dorks have come and gone, left and returned, the core mission and value has not changed – to be an example of unrelenting fanaticism in topics of pop culture. Whether it is waiting in line for hours all for an autograph, driving hundreds of miles to the next comic book convention, watching everything twice (once in Japanese with subtitles and once in English dubbed), or prancing around in a cape, no one should ever have to feel any shame or remorse for embracing their dorky side.
---
Our Vision
dorkaholics will be a community of pop culture enthusiasts and fans sharing their passionate commentary on news, predictions, and other opinions about their beloved characters, stories, and worlds.
dorkaholics is a media destination targeting dorks, geeks, nerds all around the world.
---
Events We Cover
Since the launch of dorkaholics in 2014, the team has traveled far and wide (primarily within the Southern California region) attending different events with focuses on Anime, Comics, Cosplay, Games, etc. The following are some of the events we have proudly attended as press: