What happened to the DC Universe?
We all remember how the DC Universe underwent a seismic shift during the rebirth age that began in 2016 under the leadership of Geoff Johns, the then-CCO of DC Comics. 
To fix a significant majority of the failings of the New 52, Johns emphasized that there would need to be a "re-laying of the groundwork for DC's future while celebrating the past and present. It's not about throwing anything away. It's quite the opposite." [CBR]
And for a while, the DC Universe appeared to head down what many saw as the right track with the multi-year, multi-story lead up to Doomsday Clock. It was here where all the questions would be answered regarding The New 52 and Rebirth, and unveil the remaining bits and pieces of the Pre-New 52 DC Universe.
However, Johns' desire to save the DCEU, delays between Doomsday Clock's release, internal politics, and Dan Didio's aim to reverse course, has broken the continuity of the DC Universe where the inconsistencies become more noticeable.
Take for example Barbara Gordon's Batgirl Outfit in the first issue's cover of Heroes In Crisis. While this outfit is a DC Rebirth Era design, she has a completely new design in issue four that doesn't match up with the current Batgirl Comic, though that can be forgiven as the title's timeline hasn't caught up yet. But then in Dark Nights: Death Metal, she's back in the Rebirth Outfit.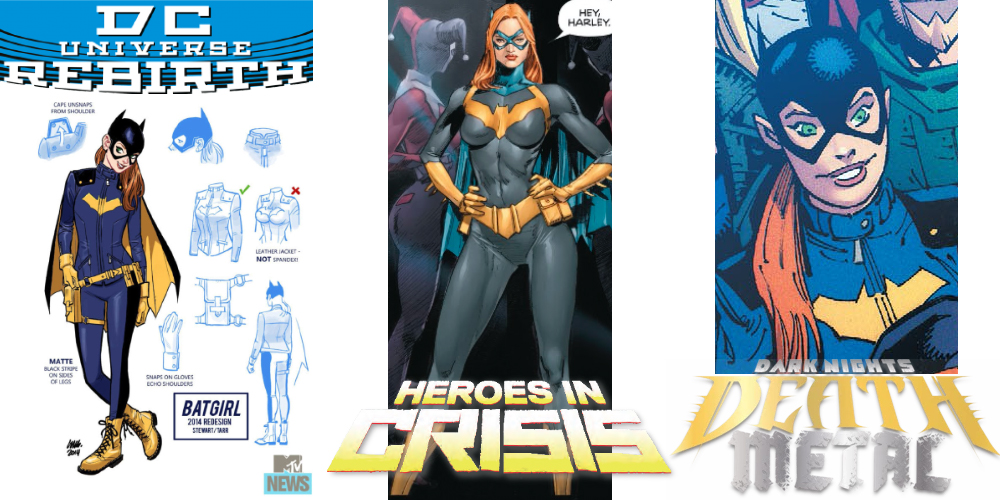 Another, more major point of the broken timeline is Nightwing. In his books, he was shot in the head, lost his memories of his time as Dick Grayson, and abandoned the Nightwing Moniker. However, in Doomsday Clock, Heroes In Crisis, and Death Metal, he's back in the outfit, working alongside the Batfamily again, while STILL operating as Ric Grayson and not having recovered his memories.
DC's original answer: The 5G Initiative. And yet, plans to reboot the universe and fix all broken timelines are now are either completely abandoned or in a state of flux regarding the former due to Dan Didio's firing and the COVID-19 Pandemic. Sadly, those plans don't just magically go away as those former plans were already in motion with events such as the death of Alfred Pennyworth in Tom King's Batman run.
DC Comics and its iconic superhero-shared universe are in a state of flux due to the recent implosion and cancellation of many titles, 5G is all but confirmed dead, and now Death Metal is promising to unify every storyline from mainline DC Universe comic books, including the standalone stories.
Let's hope Scott Snyder can succeed on that promise.